PROBLEMS IN THE DEVELOPMENT OF TERMINAL INDUSTRY IN CHINA
Views: 1453 Author: Site Editor Publish Time: 2020-04-04 Origin: Site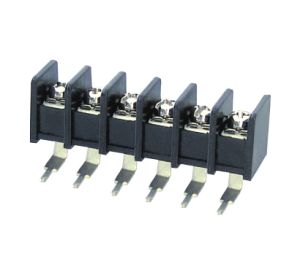 PROBLEMS IN THE DEVELOPMENT OF TERMINAL INDUSTRY IN CHINA
With the gradual transfer of terminal connector market to China, China has become the most potential place for the development of global connector market. The development of connectors directly drives the development of terminal blocks. Therefore, at present, China's terminal blocks are developing rapidly with vigorous efforts.
Terminals belong to the category of connectors. Terminals are widely used in daily life, which is the bridge between electronic components. Without the terminal, the smooth flow of current or light waves cannot be achieved. Terminal is actually a piece of metal sheet sealed in insulating plastic, with holes at both ends to insert wires, and screws for fastening or loosening. For example, two electrical wires sometimes need to be connected and sometimes need to be disconnected. At this time, they can be connected with terminals and can be disconnected at any time without having to weld or entangle them, which is very convenient and quick. Terminal is suitable for a large number of wire interconnections. In the power industry, there are special terminal blocks and cable connectors. A certain crimping area is to ensure reliable contact and to ensure sufficient current can be passed.
Although the current development of China's terminal blocks is very rapid, with the development of electronic products toward high-tech, miniaturization, and high-performance trends, people's requirements for terminals are getting higher and higher, the mold companies are facing increasing challenges and technical requirements. The requirements of the terminal manufacturing industry mainly focus on:
1. Requirements for Improving Mold Design Level
Because the design of different shape terminals is different, how to carry out reasonable design is very important. If the structure is not reasonable, the product will be unqualified.
2. Requirements for High Precision Technology
Terminals require high precision processing equipment. The precision of foreign equipment can reach ± 0.002mm, while that of domestic equipment can only reach ± 0.01mm.
3. Requirements for High-quality Processing Basic Technology
A good connector mold requires the perfect combination of design, equipment and technology. At the same time, this requires higher equipment matching and higher technical barriers. Now, China's terminal industry adopts advanced CNC surface grinding, fully automatic optical curve grinding, slow wire cutting, machining centers and other equipment combinations for production.
If China's terminal market wants to break through the traditional framework and develop into a large terminal company that can go global, it must pursue efficiency and improve technology. In fact, the current domestic terminal industry still belongs to the low-end market, but fortunately, the market share is relatively high. Therefore, as long as an enterprise breaks through the traditional marketing model of the terminal industry and meets the requirements of "accurate positioning, clear functions, powerful management, and leanness and efficiency", and enhances a strong enterprise through self-technology and management, it can gradually promote the upgrading of segment market and play a leading role in the industry.
The development of terminals is closely related to the update of the times, and its development indirectly affects the innovation of the market. The structural adjustment of terminal industry is the first condition for the major terminal enterprises to stand in the international terminal market for a long time.