WHY CAN NOT TWO WIRES BE CONNECTED TO THE COLD PRESSING TERMINAL AT THE SAME TIME ?
Views: 6572 Author: Site Editor Publish Time: 2020-06-25 Origin: Site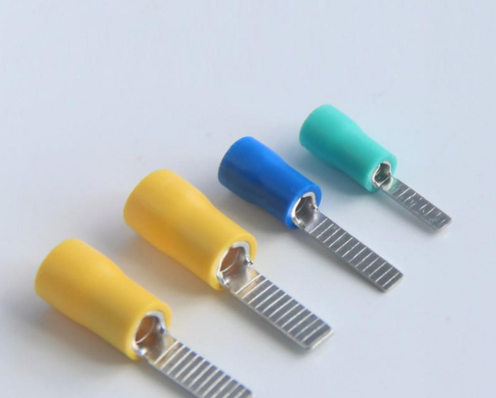 Cold pressure terminal is also called insulation terminal. Electronic connector and air connector both belong to cold pressure terminal. It is a kind of accessory product used to realize electrical connection, which is divided into connector category in industry. With the higher degree of industrial automation and the more strict and precise requirements of industrial control, the usage amount of terminal is increasing. With the development of electronic industry, more and more terminals are used, and there are more and more types.
What are the problems that are not allowed to be connected to the cold terminals? Generally, two wires are not allowed to be connected to the cold compression terminal, because when the terminal is limited to be used, it is better to use the special terminal of two wires for crimping first. Otherwise, it is necessary to select a higher level or double-stage higher level cold compression terminal.
In the usage process, if there is no special terminal block for crim
ping two wires, the two wires can be directly pressed on the cold pressed terminal block, and then pressed on the row of the terminal block. However, if each connection point exceeds two wires, the row of the terminal block can be directly short circuited with a short connector. Thus, the connection point can be well raised in order to prevent the wire from exposing the copper wire, resulting in poor insulation.
Generally, OT cold terminals are required by wire diameter. 10 square is 10 square, and 16 is 16. They are all dedicated. If 10 square OT is used to press on two 10 square wires, the T wing is not contained enough. Two wires are not allowed to be connected in the operation process, which refers to the case of the same wire diameter. If 10 square OT is used to press two 4 square lines, that is all right. It is judged by size. It is like a double OT copper nose. The T wing is much longer, and it can completely contain to press two wires at the same time. For example, if the OT is 10 square single line, it is just right to press one 10 line, but it can not be covered by pressing two 10 lines. The OT of double line 10 can press two 10 square lines.
Therefore, cold pressed terminals can be used to effective connection and they can be disconnected at any time, so there is no need to weld or wind them at all. It is not only fast but also convenient, mainly suitable for most wires. In the electrical industry, there are basically special terminal blocks and terminal boxes. The above terminals are basically wiring terminals, mainly including current, single layer, common, double layer and voltage, etc. In fact, a certain area of crimping is mainly to better ensure reliable contact, or to ensure the passage of current.
Cixi Kefa Electronic Co., Ltd. specializes in the production of all kinds of terminals, terminal blocks, PCB terminals, electronic connectors and precision molds.